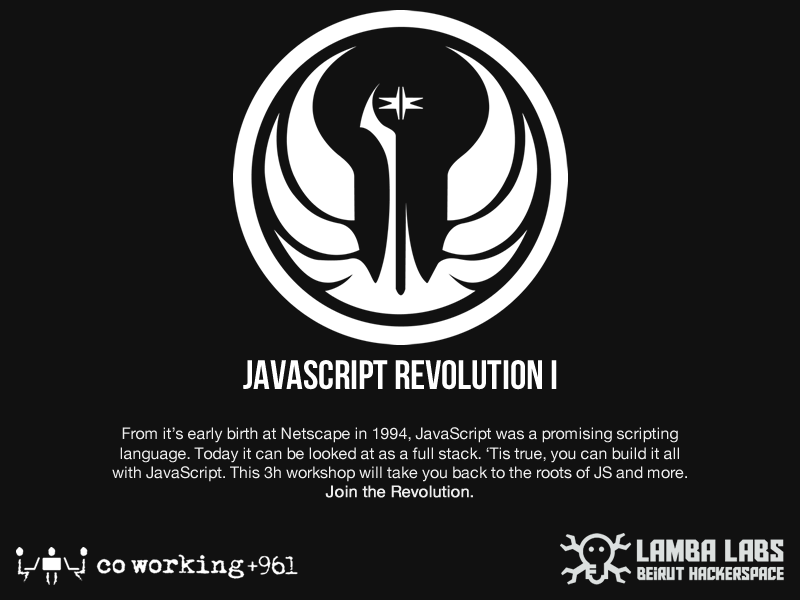 Talks:
Theoretical JavaScript and OO Concepts
By Jad Jabbour: A software developer that just loves experimenting with codes and has an unconditional love-hate relationship with JavaScript!
Code Example on Github
JavaScript in the mobile world: Code structure, optimisation and Phonegap
By Jad Joubran: Co-Founder and CTO of eTobb and coding is his ultimate passion. He won 4th place at the ArabNet Developers Tournament 2012 and was part of the Lebanese winning team of the Arabnet Championship in Dubai
Code Example on Github
An intro to Backbone.js
By Piotr Yordanov: Ex-Co-founder of the first Map-based, real-estate website in the Middle-East BaytBaytak.com. Now a Hero at Draper University
Find his campaign on Indiegogo
The JavaScript ecosystem: Node.js & MongoDB
by Donald Derek: A Hipster Geek from Lamba Labs – Beirut First Hackerspace, RaspberryPi Tinkerer and a JavaScript Freak. He snatched the first place in the ArabNet Developers Tournament 2012 and was part of the Lebanese winning team of the Arabnet Championship in Dubai
Code Example on Github
Experimental JavaScript: Arduino & Node.js
By Marc Farra: Founding member of Lamba Labs – Beirut First Hackerspace! Computer Engineer interested in human computer interaction and new media.
Code Example on Github
Sponsors:
This event was powered by:

Special Thanks to everyone who attended the workshop powered by Lamba Labs – Beirut First Hackerspace

The awesome videos were shot and edited by Menaveristy

Thanks to CoWorking+961 for hosting this event